Breast Cancer Awareness and early detection is a topic near and dear to my heart. Those around me know how grateful I am to my mother's team of oncologists, physicians, and care givers. In her mid 70's she has endured quite a lot and faced it with poise and equanimity — she's awesome.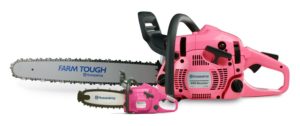 From the folks at Husqvarna:
Support breast cancer awareness and education with Husqvarna. While supplies last, Husqvarna will donate $3 to Men Against Breast Cancer for each purchase of a limited-edition pink toy chainsaw, available for sale only at your local Husqvarna dealer!
Until November 15, you can also enter to win a pink Husqvarna 450 Rancher chainsaw and pink toy chainsaw by filling out the form below!*
You can learn more by liking our page at http://www.facebook.com/HusqvarnaUSA. After entering or purchasing your pink toy chainsaw, continue to support the effort by sharing the giveaway on social using the following hashtags:
#HusqvarnaCares #SawsForACause #HusqvarnaPink